INDIGO

1948Wianno Senior #114
Overall Length.............25'
Beam..............................8'
Drawght..........................3'


The Wianno Senior Knockabouts have been racing on Nantucket Sound since the Summer of 1914. The boat was designed initially as a one-design day sailer for summer residents of Wianno, Cape Cod, and has remained the principal one-design class of the Wianno Yacht Club. Additional fleets were subsequently organized at the Hyannis, Hyannis Port, Bass River and Stone Horse Yacht Clubs. The Wianno Sennior was Designed by H. Manley Crosby and built at The Crosby Yacht Building and Storage Co. in Osterville Mass, Cape Cod. The Senior has remained a popular and competitive class on Nantucket Sound. Between 1914 and today about 180 boats were built . About 140 still exist today. The Seniors fame is derived from its service to many well known families and instutions in the Cape Cod area.




HISTORY


Between 1948 and 1971 Wianno Senior # 144 was owned and races by the John Kiley family , of Wianno Cape Cod. They called the boat EL CID. Between 1971 and 1974 #114 was owned and raced by Brownie Swartwood of Cotuit with no name. From 1974 to 1986 The boat was owned and raced by the Kip Gould family of Cotuit and NY and sailed under the name EURYDICE. In 1977 the centerboard and centerboard trunk were severely cut down in an effort to relieve heavy upwind leaking.,common to Seniors of that age. In 1978 the boat was cruised to Friendship ME. In 1986 the boat was purchased by Matt Borden of Haverhill and moored in Ipswich Mass. and sailed from their until 1990. Tom Morse Purchased #114 in Sept 1990 and spent the next 2 years completly restoring the boat. It was taken to Sarasota Fl. in 1993 for the winter season and returned to spend several summer seasons at The Musume of Yachting at Fort Adams in Newport, R.I.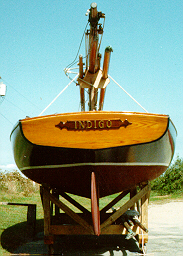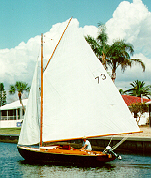 Send mail to: Tom Morse.
Built By: TOM MORSE
Updated : 10-10-2005