+

UNCLE BENNY

1928 Wianno Senior #73
Overall Length............25'
Beam.............................8'
Draught.........................3'


The Wianno Senior Knockabouts have been racing on Nantucket Sound since the summer of 1914. The boat was designed initially as a one-design day sailor for summer residents of Wianno, Cape Cod, and has remained the principal one-design class of the Wianno Yacht Club. Additional fleets were subsequently organized at the Hyannis, Hyannis Port, Bass River and Stone Horse Yacht Clubs. The Wianno Senior was designed by H.Manley Crosby and built at the Crosby Yacht building and Storage Co. in Osterville, Mass, Cape Cod. The Senior has remained a popular and competitive class boat. Between 1914 and today about 180 boats were built . About 140 still exist today. The Seniors fame is derived from its service to many well known families and institutions in the New England Area. Among these are Mystic Seaport #11 Fantasy, Taste Freeze Ice Cream #88 Ocean and #99 Wiggle, John F. Kennedy Library #94 Victura, Manter Hall School #95 Fleetwind , and Mass Maritime Academy #105 Williwaw and #138 Unforgettable.



HISTORY OF WIANNO SENIOR #73


In 1928 Wianno Senior #73 was built for and sold to a family in the town of Wianno on Cape Cod. It was sold two years later to the Roswall Bassett family, an uncle to one Stanley Moore. The boat was named Roselyn II and was used for both crusing and racing in the Hyannis Cape Cod area.
In 1949 #73 was sold out of the Bassett family estate to Ben Baxter of Hyannis and Raymond L Moore, the Uncle to Stanley Moore. The Boat was moored outside the Baxter's Restaurant on Hyannis Harbor. The boat was painted white and had no name. It was raced by Ben and Raymond and won many races, among them the 1943 Crosby Cup - the only time it was ever awarded. In the summer of 1943 it was accidentally run into and wrecked on the aft port side and taken to Marine Railway Storage Yards . It stayed there until 1945 when Ben Baxter retrieved it after his military service obligation. The boat was repaired and refitted in a manner raking the mast forward to balance the boat.
Between 1956 and 1964 Ben Baxter raced # 73 with sister Connie Baxter and Stanley Moore. During this time the boat was named Uncle Benny by Connie Moore . They achieved an outstanding racing record, wining the Scudder Cup and other Regional Yacht club cups many times. The boat was again berthed during the summer season at the Baxter Restraint on Hyannis Harbor.
In 1962 Stanley Moore took over control of the boat, painted it red with a white boot and red bottom .He continued it's winning tradition. Racing the Kennedys was no match for this boat and it's master. From 1962 to 1973 the boat was maintained by the Crosby Yacht Yard.
In the fall of 1973 Stanley Moore gave the boat to Tabor Academy . He quit racing #73 after losing the mast step in a race during the summer. They repaired the boat for cruising and sailing classes. In 1974 they wrecked the boat on Cleveland Ledge in Buzzards Bay. The boat was stored and put into litigation for 4 to 5 years. It was then wholesaled to a Carpenter in Woods Hole on Cape Cod.
Sometime in the early 1980's it was purchased by Karren Uhlaender of Great Island ,West Yarmouth,Mass. She sailed it a few seasons then stored it in her back yard doing no work on the boat.
It was purchased in 1992 by Tom Morse for parts. The boat was complete but in very poor condition . It was stored under cover until the fall of 1994 when restoration was begun.


COMMENTS


From E.BACON -03-18-01---During the spring of 1974 I installed a new mast step in Uncle Benny during my junior year at Tabor Academy. During the spring of that year, I spent many afternoons sailing her. It was one of many experiences that made me get CHEETAH, Wianno Sr # 166 in 1980 and enjoy racing her to this day. ---Eric Bacon



RESTORATION


Restoration done in winters of 1994-1996. The project included sistering every other
main rib from 1/4 stern to 1/4 bow with cold bent clear white oak 1 1/2 X 1 1/2 : Replacing
the keel, false keel, deadwood and mast step oak. The cypress sheer planks were replaced
with mahogany and the 3/4 cypress deck with 3/4 marine plywood, along with most all
the oak deck beams. The cockpit spruce stringers and cedar cockpit planks were also
renewed. The deck duck canvas was replaced in traditional manner. Mahogany trim, oak
splash boards, cabin top and fittings were cleaned , refinished and reinstalled.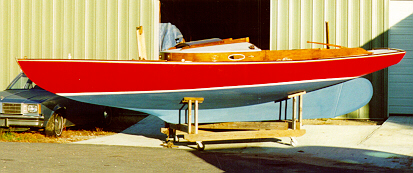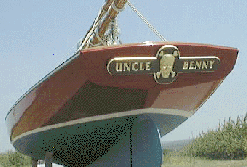 Send mail to: Tom Morse
Revised -- 01-01-2005
Built By: TOM MORSE